As a sports bar owner or manager, your goal is to find ways to encourage fans to come into your bar. Not only do you have to compete with other establishments in town, but you also have to motivate people to leave home to watch the game. If you are looking for a way to drum up more business, a well-crafted text marketing campaign can help you attract customers. To reap the numerous benefits of this marketing channel, you need to develop a strong strategy that includes one or more of the following components.
Send Out Reminders and Promotions for Events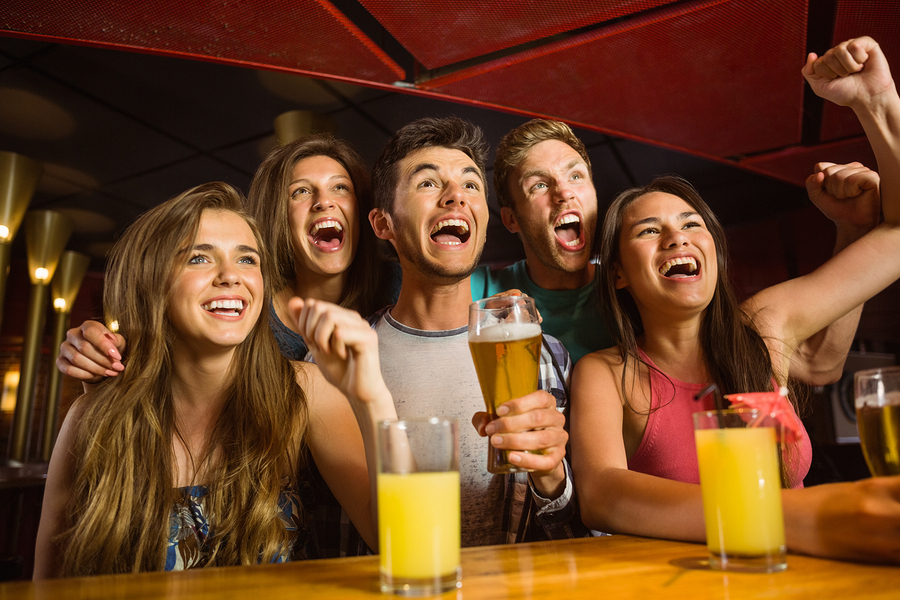 Use texting to let people know about events to increase attendance.
Text messaging is an immediate and direct method of communication. Most people read messages within a few minutes. That is why texts are the perfect way to remind customers about your events, whether it is the big game, a celebratory party after a large win, or sports trivia night. No matter where your subscribers are, you will be able to reach them and they will see your message. It is not just about reminders either; you can also promote these events to your mobile subscriber list to help increase the number of people who attend.
Offer Deals and Discounts for Fans
Deals and discounts motivate people to visit a particular business, so offering them is a quick way to entice people to choose your establishment, according to the Chronicle. Text marketing is an ideal platform for sending out special offers because the only tool your subscribers need to redeem them is their phone. They do not have to worry about printing out a coupon and remembering to bring it; instead, they have it on their phone, something they already carry with them everywhere.

Offer free appetizers to those who show their support for a particular team.
A creative way to incorporate special offers at your sports bar is to share on-the-spot discounts with fans wearing their team's colors. Depending on the situation, you can take sides and only offer the special to fans of a particular team, or anyone who comes dressed in their team's colors can benefit. This helps to tie into the enthusiasm of the game and turn the evening into a more exciting event.
Set up a VIP Club
Text marketing is an opt-in channel, so you can only send messages to those who have subscribed. This also means that the people who sign up for your campaign are already engaged with your sports bar and more open to the advertisement. One way to reward these customers is to turn your SMS campaign into a special VIP program. Then, you can send out exclusive offers, discounts, events, access, and more. Most texting platforms allow you to easily group your subscribers, so you do not have to include everyone on the VIP list. This means that you can save the VIP texts for those who regularly redeem offers and engage with your sports bar.
Ask What Games to Show
Your text marketing campaign does not have to be a one-way method of communication. It also works as a channel for your customers to comment, engage, and otherwise communicate with your company. One great way to capitalize on this is to send out surveys and polls to your customers. Use these surveys and polls to find out which games to play on your TV or TVs on a particular night.

Ask your customers which games mean the most to them.
Even if you have the capability to show multiple games, typically there is one central TV that takes center stage. You can survey your customers to find out which teams and sports they care about the most and show that game on the central TV. It is also worthwhile to use texting to ask customers about new menu items and other changes you may be planning for your bar. This not only engages your customers, but it also helps you to provide the services they want.
Text marketing offers many benefits to your sports bar, but it does not provide much help if you only use it sporadically. Instead, it is best to create a strong campaign that engages the customers and frequently sends them content of value. If you are ready to try it out for your sports bar, then create a Nightlife Texting account and get 10 free credits for sending up to 5 test messages.
Categories: Uncategorized